Stay tuned for more featured couples!
Melanie and Brian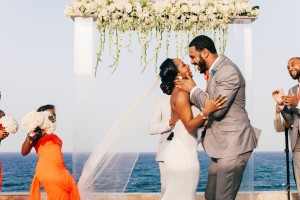 June 2016
Thank you and the Casa Kimball team for making our stay memorable and bringing our dream wedding to reality! We were in awe of how beautiful everything turned out and our guests truly enjoyed themselves. They are still talking about it all and we've already told the staff we'll be back! Melanie & Brian
Erica and Logan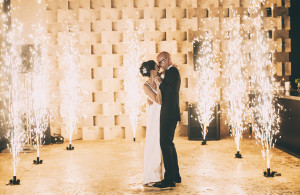 April 2016
Words from the Erica's parents…"Awesome wedding experience! Our daughter and son-in-law were married at the end of April, surrounded by about 40 guests who had a fantastic time for the 4 days leading up to the wedding. The service, staff, food, special events (Karaoke night, welcome party, rehearsal dinner, and beautiful beautiful wedding) and the amazing beauty of the Casa and grounds were beyond our expectations. The buildings are works of architectural art. We had children in the group who enjoyed the recreation room and very child friendly pool. Our kids chose the minimalist package with add-ons; the word minimalist just doesn't describe the gorgeous decoration, flowers, lighting and attention to detail that we experienced. The cost was reasonable and equal to a top rated all inclusive experience. We also rented a very nearby villa that was beautiful. Casa Kimball's manager, Monica, and Felicita, the wedding planner assisted with our every need. Every single guest is strategizing the way to return to CK in the future!"
Joy and Azam
April 2016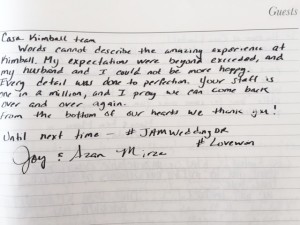 Michelle and Geoff
June 2014
Beverly and Adam
November 2013
Beverly and Adam's wedding day highlights – http://vimeo.com/79861306
Nella and Chris
June 2013
Nancy and Mo
February 2013
Destination Photographer: Mango Studios

Trisha and Harold
 May 2013
Charisse and Cortez
 January 2013
Jasmine and Devin
 November 2012
Lejla and Gary
 October 2012
Destination Photographer: Rick Collins

Yanique and Sam
 July 2012
Krystle and Rob
 March 2012 "What can we say about Casa Kimball's wedding planning capabilities?  All of our attendees have described our wedding as the wedding of the century. From the time we decided to have the wedding at Casa Kimball, Monica was there to answer all of our questions and with great patience.  It really helps that Monica speaks perfect English so a language barrier was not an issue.  I have also met Monica 3 times before on our previous vacations to Casa Kimball so this certainly made things go smoothly for us. Every detail was well thought out and anything that we asked for both Monica and Felicita tried to accommodate.  They managed to fulfill every request regarding our decorations and flowers.  The flowers were beautiful, our colors were red and white and with the lush green landscaping around Casa Kimball it made everything pop. Setup and take down of the alter, chairs, tables, etc was effortless it seemed.  They worked all morning the day of the wedding to set up, and by the time we woke up the morning following the wedding, everything had been cleaned up.  There was nothing for us to do.  They quietly go about the preparations and removal and everything was done with minimal disruption to our guests staying at the villa. We were able to customize our wedding menu and Mario is one of the best chefs we have ever experienced.  The cake was fantastic vanilla cake with vanilla icing for the top tier and then 2 tiers of chocolate and vanilla cupcakes and again this was customized to our specifications. The DJ was arranged through Monica and we provided a must play song list 1 month prior to the wedding, but he didn't need that, he had everything up to date and was great  with taking requests.  We had an amazing night kicked off by fireworks and then a dance we will never forget." Krystle – Bride
Dena and James
 December 2011
Dominican Republic Photographer: Melissa Marte
Laura and Derek
 June 2011
Dominican Republic Photographer: Melissa Marte
Kit and Joe
 April 2011
Destination Photographer: Rick Collins
Belinda and Jeremy
 March 2011  – Destination Photographer: Rick Collins
Karina and David
 December 2010 "Perfect wedding at an amazing villa with delightful staff." Casa Kimball is an amazing home. We hosted a 5-day wedding which was perfect. The delightful staff makes everyone feel like they are the only guest there and Monica who manages the villa is detail-oriented to make sure each event works exactly as you want. I would very highly recommend it.
Destination Photographer: Michelle Turner
Melissa and Dick
April 2010 –  1.5 years later, people are still talking about how we had the most incredible wedding ever. It's amazing! People are still comparing every wedding they go to to ours. Seriously, Monica, it was legendary – Melissa – Sept. 2011
Destination Photographer: Rick Collins
Lauren and Jordan
November 2009
Had our wedding there nov 5-9. It was magnificent and i think that's the first time i've used that word in at least 6 years. MONICA MADE IT GREAT. I can't express enough how terrific Monica is. Responsive, sweet, honest, relaxed, aggressive, problem-solver, reassuring, smart, informative, resourceful, pleasant and efficient. She had every detail buttoned up, made everyone feel respected and appreciated and most of all ensured everyone had the most perfect time. It was incredible. Furthermore, the PLACE redefined luxury for me. I am a designer, stay in boutique hotels in NY and Miami etc etc and was still blown away by how amazing Casa Kimball is. Everything from the concept and location to the finest details impressed me, it was the place I would build if I had every possibility open to me, and I felt privileged and lucky to have experienced it — BUT at the same time the staff made me feel at ease and comfortable to be there. In a way, they made me feel like I belonged, and that's tough to do in a place so overwhelmingly incredible.
Destination Photographer: Kella MacPhee
Kamise and Jia
Casa Kimball's first wedding.
Destination Photographer: Muriel Silva